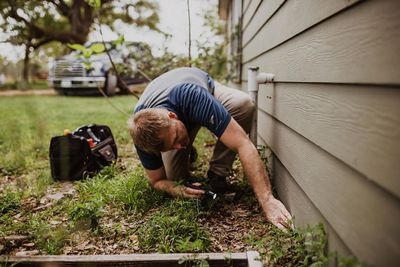 How Often Should You Perform a Preventive Termite Inspection?
Invasion of bugs is indeed extremely irritating, but termite invasion adds a whole different dimension to the discomfort. That is because termites can destroy houses. After all, they eat wood and products of wood, the foundation of your house. They cause damage to the main structural wood of the house as well as windows and doors, not to mention the wood furniture you may have. In addition to structural damage, they disrupt the appearance of ceiling, floors, paint, and wallpaper.
Cost Of Termites
Did you know that a homeowner spends an average of $3,000 to repair the damage termites create? It's not only the money, taking care of the problems termites create can disturb your daily routine. You will spend extra time to find and hire professionals. After hiring, you may need to move from the house for a certain amount of time until termites are taken care of and then move back. In some cases, damages created by termites are so severe that doorframes must be replaced; walls and ceilings must be rebuilt.
What is Termite Inspection?
Spending this money, effort, and time on treating termite damage is avoidable by termite inspections. With many other things to take care of, tenants or homeowners can forget about termite inspection, but they aren't simple things one can overlook. You wouldn't know if your house has the risk of having termites, only termite inspectors would know. Termite inspectors are aware of the key places for possible termite invasion and will check these areas. They will check both indoors and outdoors for possible signs and the whole inspection process is most likely going to take about an hour. At the end of the hour, inspectors will tell you about the presence of termites in your house.
Key Areas Inspectors Focus On
Inspectors are most likely going to focus on a couple of areas when they are looking for termites such as bedrooms, closets, attic as well as toilets. They will try to focus on areas with wooden structures, but they will also look for leaking pipes since they can cause moist-damaged wood. It is possible that they don't find active termite inspection but an underground termite infestation. For both cases, they are going to tell you your options and the next steps you should take to prevent a larger and more damaging infestation.
Make Sure Your Home is Termite-Free!
A termite inspection is also becoming a part of the home-buying process nowadays. Most companies require a termite inspection to know if the property has been damaged and require treatment if the termite infestation is present. So, it can even affect your home buying or selling process. To avoid the large cost of termite infestation, schedule a termite inspection with Atlanta Property Inspections. It is possible to stop termite infestation if the early preventive inspection is made and proper treatment is done. Dealing with termites is inconvenient and your money, effort and time isn't worth it. Make sure to schedule your preventive termite inspection for a healthy home environment.